Taiwan's manufacturing strength shines as Wuhan virus wreaks havoc globally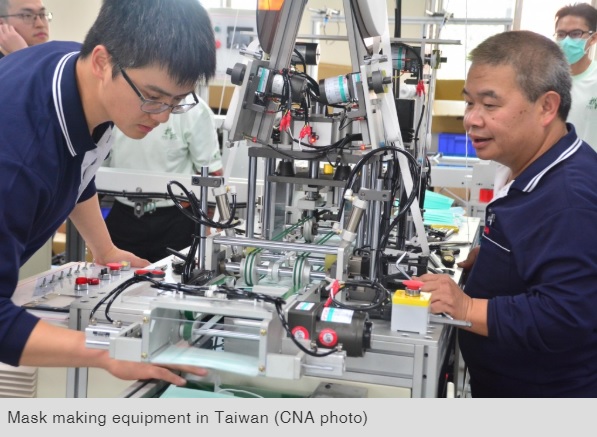 Taiwan's manufacturing strength shines as Wuhan virus wreaks havoc globally. Taiwan is expected to export its surgical mask manufacturing machines as early as August amid growing global demand.
Taiwan, a nation of 24 million, boasts a daily surgical mask production capacity of over 13 million units at prices as low as NT$5 (US$0.17) a mask. The island country has pledged to donate more than 10 million masks to countries suffering from the pandemic, earning accolades from many quarters.
Taiwan's manufacturing strength hand the ability to develop is witnessed by the whole world. Not only reflect its innovation skill from the big machinery and equipment, but it also draws attention and interests to the smallest part and components.
Gangshan District in Kaohsiung city is the well-known fasteners tribe. There are numerous fasteners related business located and grow in this area. It is highly competitive in the market with the gathering industries like this. But surprisingly, the companies are very supportive and dedicated as in one toward the whole fasteners industry. Instead of dividing or setting bad energy, it actually brings more economic benefits and facilitates the improvement of technical capacities.
With continuous hard work and more than two decades of experience, Strong Johnny has successfully built a reputation and make the long-lasting partnership and friendship with our valued customers. We deliver more than qualified products at a reasonable price.
We care and listen to what you truly need, provided with professional advice. Strong Johnny can help, and Strong Johnny is helping.
Contact us today for further consultation with your custom-designed project and idea.
Facebook: https://www.facebook.com/SJ886
LinkedIn: https://www.linkedin.com/company/sjscrew
Alibaba: https://sjscrew.en.alibaba.com
News shared from Taiwan News :Huang Tzu-ti, Taiwan News, Staff Writer 2020/04/19 15:21
https://www.taiwannews.com.tw/en/news/3919022